2017 Schedule

Date         Lake                         Registration andWeigh-in

Feb. 11          Squaw Creek                    Squaw Creek Park

Mar. 4          Texoma                              Highport Marina 

Mar. 25        Eagle Mountain                West Bay Marina  

Apr. 15         Cedar Creek                     Log Cabin Marina

May 13         Ray Roberts                      Jordan Park

Jun. 17         Possum Kingdom             TBA

All rights reserved.   Any person accessing this site agrees to the Terms of Use
2017

CAST

TOP SIX Invitational

Dates: 

Sept. 29 & 30

2017

CAST Classic

Tournament

Oct. 20, 21, & 22

Denison, Texas

Lake Texoma

Directors

Lonny & Kim McGuffey

164 Noelle Lane

Weatherford, TX  76087

(817) 597-1630 or 1631

CAST NORTH

CAST North started the season off on Squaw Creek this weekend. We had a good turnout and all teams caught fish and had a good time despite the windy conditions. Congratulations to our couples that finished in the top to claim a check:

Joe Schroeder and Ashley Anderson 14.59

Scott and Laurie Barnett 14.48

Frank Tenorio and Mimi Thompson 14.40

Andrew and Brandy Patton 14.07

Overall Big Bass went to Joe and Ashley with a 5.83

Ladies Big Bass went to Laurie Barnett with a 3.64 Laurie was awarded a Moby Bass rod courtesy of Custom Angle Rods. Thank you Dave for your sponsorship.

Our next tournament is scheduled for March 4th on Lake Texoma.

Please note change in schedule. We had to swap two lakes due to a conflict with another tournament.  Sorry for any inconvenience this may cause.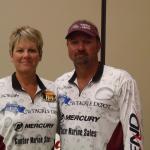 CAST NORTH 2017 - Standings after 1
100

Joe Schroeder & Ashley Anderson
99

Scott & Laurie Barnett
98

Frank Tenorio & Mimi Thompson
97

Andrew & Brandy Patton
96

Colt & Chelsey Farris
95

Mike & Sharon Stroman (own)
94

Mike & Robyn Turner
93

Lonny & Kim McGuffey
92

Greg & Janice Bobo ( MX)
91

Rob Damico & Sharon Williams
90

Mark & Sandi Buhlman
89

Roger & Monica Haverkamp
88

Dan & Terri Jezek
87

Larry & Mary Lynn Wood
86

Dillon & Leslie Peck
85

Stephen & Tracey Dyer
84

Jason & Lisa Bell
83

John & Brenda Bills
82

Ronnie & Margaret Sherbert
81

Kendall & Pam Lynn