Hill Country Region 2022 Schedule

Date               Lake                                Ramp

3/6                        Fort Phantom Hill                  Completed

3/27                      Brady                                       Completed

4/10                      OH Ivie                                   Completed

5/1                        Possoum Kingdom                 Completed

5/22                      Leon                                         TBA

6/19                      Hubbard Creek                      Hwy 180

All rights reserved.  Any person accessing this site agrees to the Terms of Use
Hill Country Directors

Lonny & Kim McGuffey

164 Noelle Lane

Weatherford, TX 76087

(817) 597-1630 or 1631

lkbasslunkers@gmail.com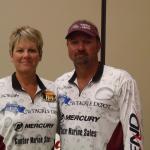 C.A.S.T. Hill Country was on Possum Kingdom today and what a challenge it was. The bite was extremely tough but all of our couples did weigh in fish today.

Lonny and I never thought our weight of 13.73 would take the win today but it did so the McGuffey's shined today and took first place.

Men's Big Bass and Overall Big Bass was won by Mike Bodeaux with his 6.92 and Wendy Hall brought in a 6.37 for Ladies Big Bass today.

Other winners:

Mike & Cindy Hicks 13.47

Chris & Natalie Bleess 13.28

Brian & Wendy Hall 12.94

Brandy & Mandy Hertel 11.68

Eric & Caitlin Lewis 11.48

Greg & Linda Badgett 11.23

Jason Childers & Kel Alton 11.13

Jack & Patty Hopkins 11.08

Chris & Rebecca Wright 10.18

A HUGE Thank you to our sponsors for taking care of us this year.

Basscat

Mercury

Double B Outfitters

Tackle Depot

Academy

Lowe's

Sandi's Creations

Texas Boat Works

Our next tourney is May 22nd on Lake Leon.

See you soon.

Lonny and Kim McGuffey