Directors

Lonny & Kim McGuffey

164 Noelle Lane

Weatherford, TX  76087

(817) 597-1630 or 1631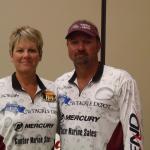 All rights reserved.   Any person accessing this site agrees to the 
Terms of Use
 2022 North Region Schedule

Date             Lake                                  Ramp                    

2/19             Bridgeport                         Completed

4/2               Texoma                              Completed

4/30              Possum Kingdom             Completed

5/21              Granbury                          TBA

6/4                Eagle Mountain                West Bay Marina

6/18             Amon Carter​                      Big Sandy

C.A.S.T. North had our second stop on Lake Texoma today and there was fairly good weather, a ton of boat traffic, some stubborn fish but still a good time was had by our couples.

First place and overall Big Bass was won by Shane and Rebecca Timm with their weight of 15.86 and Shane's 5.98 big fish.

Ladies Big Bass was won by Michele Derryberry with her 4.16.

Top Ten Teams on the day were:

Shane & Rebecca Timm 15.86

Dan & Terri Jezek 14.00

Mark & Sandi Buhlman 13.69

Dillon & Leslie Peck 13.37

Chris & Natalie Bleess 12.22

Joe & Ashley Schroeder 10.50

Frank Tenorio & Mimi Thompson 9.85

Randy & Michelle Ballard 9.21

Joe & Sandra Flowers 8.68

Greg & Janice Bobo 7.08

A huge THANK YOU to our regional sponsors:

Bass Cat

Mercury

Tackle Depot

Texas Boat Works

Shuck Me

Academy

Lowe's

Sandi's Creations

Rooster's Sport Haven

Our next tournament will be on April 30th on Possum Kingdom with the Hill Country Region also fishing on May 1st on Possum Kingdom.

See you all soon!