Directors

Lonny & Kim McGuffey

164 Noelle Lane

Weatherford, TX  76087

(817) 597-1630 or 1631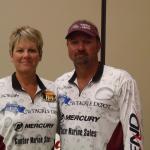 All rights reserved.   Any person accessing this site agrees to the 
Terms of Use
 2021 North Region Schedule

Date             Lake                      

2/20/21         Lake Granbury -      

3/13/21         Cedar Creek COMPLETED

4/3/21           Texoma        

4/17/21         Possum Kingdom             

5/8/21           Eagle Mountain

6/5/21           Bridgeport

The McGuffey's had a really great day on the water and we were able to find the win with our weight of 22.10. We actually had a ton of fun and hope to replicate our win tomorrow on PK with the Hill Country.

Joe & Tanya Huchowski has some boat problems at the end of the day but managed to get to the scales with a weight of 20.48 for 2nd place.  

Losing their trolling motor at 8am, David & Tammy Waller fished on and brought in 19.21 for 3rd place.  

Other winners on the day:

Greg & Janice Bobo 19.18

Roger & Monica Haverkamp 17.70

Kendall & Pam Lynn 17.69 Big Bass 8.84

Barry & Donna Merrill 17.22 Ladies Big Bass 6.16

Dan & Terri Jezek 15.88

Troy & Erin Howard 15.75

Dale & Susan Dixon 14.78

Thank you to all of our sponsors, we greatly appreciate everything you do for us.

Tackle Depot

Shuck Me

Texas Boat Works

Rooster's Outdoor Products

Tattered Wings Rusty Halos

Sandi's Creations

Our next tournament is on Eagle Mountain, May 8th.

Thank you,

Lonny and Kim McGuffey

291

Roger & Monica Haverkamp
284

Mark & Sandi Buhlman
282

Dan & Terri Jezek
280

Joe & Tanya Huchowski
276

Shane & Rebecca Timm
270

Lonny & Kim McGuffey
269

David & Tammy Waller
264

Troy & Erin Howard
263

Dillon & Leslie Peck
259

John & Rita Grzybowski
259

Stephen & Tracy Dyer
257

Chris & Natalie Bleess
257

Hank & Vikki Miller
256

Frank Tenorio & Mimi Thompson
251

Greg & Janice Bobo
248

Kendall & Pam Lynn
242

Barry & Donna Merrill
233

Mike & Robyn Turner
227

Tracy & Karlin Graham
186

Aaron & Kimberly Towner
181

Joe & Ashley Schroeder
175

Danny & Rebecca Montgomery
175

Charles & Michelle Johnson
171

Jason & Kristy Case
99

Eric Garza & Kaitlyn Beebe
92

Scott & Cheri Pierce
91

Dale & Susan Dixon (HC)
88

Brandon & Stormy Burks (HC)
87

Nick & Kelsie Shaginaw (HC)
86

Kyle & Ann Johnson (NE)
86

Mike & Cindy Hicks (HC)
83

Tony Mattson & Candy Lewis
69

Mike & Janet Schupp
C.A.S.T. NORTH REGION STANDINGS AFTER 3