2019 North Region Schedule

Date             Lake                         Registration andWeigh-in

February 16     Squaw Creek                    Squaw Creek Park

March 9           Lake Texoma                    Highport Marina 

March 30         Lake Benbrook                 TBD  

April  20          Lake Lewisville                 City Park

May    4           Bridgeport                         TBD

June 1             Cedar Creek                       TBD

All rights reserved.   Any person accessing this site agrees to the Terms of Use
2018

CAST Classic

Tournament

Oct. 19, 20, & 21

Del Rio, Texas

Lake Amistad

Directors

Lonny & Kim McGuffey

164 Noelle Lane

Weatherford, TX  76087

(817) 597-1630 or 1631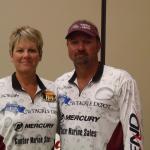 C.A.S.T. NORTH FINAL STANDINGS

​Just like that, the season has come to a close for the North Region as we closed out our regional tournaments this past Saturday on Lake Ray Roberts. The pressure was on as the fight for the Top Six was determined by this tournament, and a wild one it was. Weather temps were very warm but we all were pretty thankful that mother nature let the wind blow otherwise it would have been pretty unbearable. 

Roger Haverkamp was without his lucky charm, but Monica must have been hiding in the boat somewhere because he managed to finish in first place with a weight of 15.51 even after putting a hook in his finger. 

Dillon and Leslie Peck had one heck of day with their weight of 14.65 for second place. They had overall big bass with a 6.09 and then Leslie had a 4.41 for second place for ladies big bass. 

Just one fish shy, Keith Carney and Whitney Harris weighed in 14.03 for third place. Tracey Dyer had overall Ladies Big Bass with her 4.54.

Stephen and Tracey Dyer were also winners of the CAST/Tackle Depot weigh bag.

Congratulations to all of winners.

TOP SIX RESULTS: The teams representing the North Region will be:

Mark & Sandi Buhlman

Roger & Monica Haverkamp

Lonny & Kim McGuffey

Pete & Jess Hernandez

Stephen & Tracey Dyer

Spencer McBride & Kimber Stokes

It was a fight to the bitter end this year and as hard as all of these teams had to work to get into the Top Six, we are all ready to bring home the win. 

A huge thank you to all the couples that fished the North Region this year. We look forward the Top Six tournament on the mystery lake September 14-15 and then the CAST Championship on Lake Amistad October 19-21.

To our regional sponsors this year: Bass Cat, Tackle Depot, Custom Angle Rods, Shuck Me, H&H Concrete on Demand and Rooster Outdoors. Your support is very much appreciated and we cannot thank you enough. THANK YOU.

NORTH  REGION - LAKE RAY ROBERTS

2018

CAST

TOP SIX

Invitational

September 14- 15,2018

582

Mark & Sandi Buhlman
576

Roger & Monica Haverkamp
570

Lonny & Kim McGuffey
565

Stephen & Tracey Dyer
565

Pete & Jess Hernandez
563

Spencer McBride & Kimber Stokes
562

Frank Tenorio & Mimi Thompson
554

Dillon & Leslie Peck
462

Kendall & Pam Lynn
454

Will & Shannah Cole
372

Tim & Jessica Kisor
352

Michael & Amy Ridener
278

Joe Schroder & Ashley Schroeder
273

Keith Carney & Whitney Harris
268

Dan (Rabbit) & Terri Jezek
181

Greg & Janice Bobo
98

Jason & Syliva Childers
79

Brad & Jade Shuflin