2019

CAST Classic

Tournament

Oct. 18, 19, & 20

Lufkin, Texas

Lake Sam Rayburn

Directors

Lonny & Kim McGuffey

164 Noelle Lane

Weatherford, TX  76087

(817) 597-1630 or 1631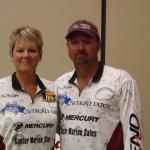 2019

CAST

TOP SIX

Invitational

September 21, 2019

All rights reserved.   Any person accessing this site agrees to the Terms of Use
                             2019 North Region Schedule

Date             Lake                         Registration andWeigh-in

February 16     Squaw Creek                    Squaw Creek Park

March 9           Lake Texoma                    Highport Marina 

April  20          Lake Lewisville                 City Park

May    4           Bridgeport                         TBD

June 1             Cedar Creek                       TBD

June 22           Eagle Mountain

​NORTH - EAGLE MOUNTAIN RESULTS

NORTH 2019 Final Standings 

570

Mark & Sandi Buhlman
568

Stephen & Tracey Dyer
567

Pete & Jessica Hernandez
564

Lonny & Kim McGuffey
560

John Staley & Page Cundiff
556

Roger & Monica Haverkamp
556

Frank Tenorio & Mimi Thompson
546

Dillon & Leslie Peck
536

Greg & Janice Bobo
437

Charles & Michelle Johnson
424

Kendall & Pam Lynn
372

Tim & Jessica Kisor
358

Mike & Robin Turner
348

Chris & Rebecca Wright
333

Barry & Donna Merrill
329

Steve & Karen Hinchey
275

Riley & Lindsay Lambert
267

Spencer & Kimber McBride
246

Eric & Kristen Chanko
197

Klint & Chris Krhovjak
183

Keith Carney & Whitney Harris
164

Jason & Barbra Reaves
96

Neil & Shayla Dempsey
91

Danny & Rebecca Montgomery
78

Jeff Lundry & Holly Hunt
​CAST North Region has completed their 2019 regional year and we cannot thank our couples and sponsors enough for a great season. The standingsc were neck and neck for angler of the year at this last tournament and it was definately a fight to the bitter end.

Winning on Eagle Mountain this year was Frank Tenorio and Mimi Thompson with a weight of 13.83 and it was anchored by Ladies Big Bass with Mimi's 5.16. Mimi took home a Custom Angle Rod for her efforts and we thank Dave Settle for being our ladies big bass sponsor this year. 

Lonny and I came in second with 13.42 and had a really fun day on the water. We weren't in the running for angler of the year but knew we needed to battle to make sure we had a top six spot. Third place went to John Staley and Page Cundiff with 12.86 and Big Bass of the day was brought in by Roger and Monica Haverkamp with their 5.64.

Our Anglers of the Year for the third consecutive year is Mark and Sandi Buhlman. They are a very tough team and once again proved how successful they can be on the water. So, with that said, the TOP SIX teams for the North Region for 2019 will be:

Mark an Sandi Buhlman

Stephen and Tracey Dyer

Pete and Jessica Hernandez

Lonny and Kim McGuffey

John Staley and Page Cundiff

Roger and Monica Haverkamp

A very HUGE Thank You to all of our sponsors this year for the North Region. We are all so very appreciative of everything you do for us at each and every tournament:

Bass Cat

Mercury

Tackle Depot

Custom Angel Rods

Shuck Me

H&H Concrete

Roosters Outdoor Products

Tattered Wings Rusty Halos

Lonny and Kim