2019

CAST Classic

Tournament

Oct. 18, 19, & 20

Lufkin, Texas

Lake Sam Rayburn

Directors

Lonny & Kim McGuffey

164 Noelle Lane

Weatherford, TX  76087

(817) 597-1630 or 1631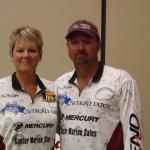 2019

CAST

TOP SIX

Invitational

September 21, 2019

All rights reserved.   Any person accessing this site agrees to the Terms of Use
                             2019 North Region Schedule

Date             Lake                         Registration andWeigh-in

February 16     Squaw Creek                    Squaw Creek Park

March 9           Lake Texoma                    Highport Marina 

March 30         Lake Benbrook                POSTPONED - to be rescheduled-see below on June 22

April  20          Lake Lewisville                 City Park

May    4           Bridgeport                         TBD

June 1             Cedar Creek                       TBD

June 22           Eagle Mountain

​NORTH - LAKE CEDAR CREEK RESULTS

NORTH 2019 Standings after 5

​474

Mark & Sandi Buhlman
 474

Pete & Jessica Hernandez
 473

Stephen & Tracey Dyer
 465

Lonny & Kim McGuffey
 462

John Staley & Page Cundiff
 462

Roger & Monica Haverkamp
 456

Frank Tenorio & Mimi Thompson
 454

Dillon & Leslie Peck
 445

Greg & Janice Bobo
 437

Charles & Michelle Johnson
 424

Kendall & Pam Lynn
 358

Mike & Robin Turner
 348

Chris & Rebecca Wright
 333

Barry & Donna Merrill
 329

Steve & Karen Hinchey
 275

Riley & Lindsay Lambert
 275

Tim & Jessica Kisor
 267

Spencer & Kimber McBride
 246

Eric & Kristen Chanko
 197

Klint & Chris Krhovjak
 183

Keith Carney & Whitney Harris
 164

Jason & Barbra Reaves
 96

Neil & Shayla Dempsey
 91

Danny & Rebecca Montgomery
 78 Jeff Lundry & Holly Hunt

​The North Region was on Cedar Creek this past weekend and the fishing was a little tough as the lake level was high, gates open pulling water and the water was pretty stained and muddy. However, despite the conditions, Roger and Monica Haverkamp pulled off the win again with a very nice five fish limit of 19.51. They also had overall big bass on the day with a 7.07 and she was a beauty. Congratulations you two!

2nd place went to Pete and Jessica Hernandez with 13.95 and with a weight of 12.56, Greg and Janice Bobo took home the 3rd place plaque. 

Tracey Dyer took home Ladies Big Bass again winning a Custom Angle Rod with her 5.62.

Other winners:

Lonny and Kim McGuffey 11.35

Mark and Sandi Buhlman 11.12

Mike and Robyn Turner 10.31

Stephen and Tracey Dyer 10.30

Frank Tenorio and Mimi Thompson 8.97

Kendall and Pam Lynn 8.94

John Staley & Page Cundiff 8.80

Dillon & Leslie Peck 2.09

The race for Angler of the Year is on and we currently have three couples that are within a point of each other. Our final tournament is June 22nd on Eagle Mountain Lake and it should be an exciting one.

LONNY AND KIM